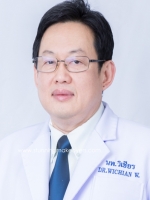 PROCEDURES PERFORMED
HEAD/NECK
Eyelid Lift Surgery
Rhinoplasty
Alarplasty
Lip Reduction
Cheek Implants
Chin Advancement and Chin Implant
ARMS
Arm Lift Surgery
UPPER BODY
Breast Augmentation
EDUCATIONAL BACKGROUND
Doctor of Medicine, Khon Kaen University, Thailand, 1989
SPECIALTY TRAINING
General Surgery, Hatyai Hospital, Thailand, 1993
Plastic & Reconstructive Surgery, Ramathibodi Hospital, Thailand, 1996
MEMBERSHIP, SPECIALTY BOARDS & FELLOWSHIP
Board of General Surgery, Thailand
Board of Plastic Surgery, Thailand
WORK EXPERIENCE
Hatyai Hospital
Ramathibodi Hospital
Yanhee International Hospital 1999 - present
 
TESTIMONIALS
R H
from
Northland New Zealand

First of all, I would like to thank you and your wife for organising the Stunning Makeover for me. As you know I got a tummy tuck …….. I wouldn't hesitate recommending Stunning Makeovers to anyone.
I would definitely come to you if I need to get another procedure done in the future.  
I must admit the thought of coming to Thailand to get my surgery done was scary since I haven't travelled to any other country by myself since I have been in New Zealand.  
It was a big step for me and I am glad I went through with it.  Paul, you made me feel comfortable and very reassuring.  I rang you a lot to ask lots of questions about how the systems work, etc.  When I couldn't get hold of you, you made sure to ring me back.  You sent me emails and posted me mail, you also explain things properly and professionally.
I wanted to get a tummy tuck for 4 years but I pushed it aside like it is only a dream.  
I watched extreme makeovers and wishing it was me getting the surgery done. When I started looking into getting it done, I finally decided I would call a few surgeons in New Zealand.  
Their quotes were between NZ$13,000 – NZ$16,000.  I could not believe it so I went back to square one.  It will take us at least another two years to save up.  
A friend came over to see my husband.  He told my husband how his workmate went to Thailand to get a boob job done really cheap and it looks really good.
My husband told me about Thailand and we searched on the internet. That's when I found Stunning Makeovers.  
When Paul told me roughly how much it was going to cost me, I was shocked.  
I couldn't believe it.  I was so excited and did some budget and waited eagerly for my husband to come home from work.  I told him the whole thing and he was just stunned he told me to ring Paul and start organising.
I would definitely recommend you guys as you put so much work into organising my itinerary, booking the surgeon and book my hotel and kept in touch with me.
Paul and his wife took care of everything. It was simple.  The nursing and hospital staff made me feel very welcome and the Thai people are so polite.
I would love to come back to Thailand with my family next time in the near future.  So thank you Paul!!! 

Nicola P
from
Perth, Australia

I am very satisfied with Stunning Makeovers service everything well organised and easy. I will and already have recommend Stunning Makeovers to others
The whole process with Yanhee hospital was great. The surgeon informed me of my options etc and all was easy to follow and understand.
The dental went well. They were able to assist me with all the needs I required and they conversed well to make sure I could get the work done in the time frame I was in Thailand.
The nursing and the support staff were magic. I fell that it was so much more superior to here. The service was impeccable - what else can be said. I would definitely return for more surgery/dental treatment.
 I did like the area the hotel was in with plenty close by to keep one busy.

Angela C
from
Hamilton New Zealand

From the very start of my enquiries, Paul has been very helpful. He made sure all my questions were all answered and sent relevant information that I've needed to know. His service was great and very welcoming.
I knew from the start that I have chosen the right agent to get my surgery done overseas.
They made sure that everything is all well organised. He even made phone calls the day I was leaving. 
He has given me a lot of support. The communications was constant. And he even sent me beautiful flowers in the hospital. 
He made sure I was home safely and happy……..
I would like to give my sincere thanks to Paul McGowan for his professional way of organising my surgery. I am truly grateful for his great support from start to end. I am completely satisfied with all the service I received from Stunning Makeovers.
The surgeon was very open and friendly. He made feel safe and I am very satisfied ….. The nursing staff was super, everyone is wonderful and caring. My recovery was good. They really treat you well.
The hospital had very high standard compared to other hospitals I've seen. 
I would like to give my thanks to Dr. Wichian who did my surgery. To all the staff, I can't say enough to appreciate all the care they've given me during my stay at Yanhee Hospital. 
I would totally recommend Stunning Makeovers to all family and friends.
Thank you very much for all your assistance, service and care you gave me. I'm truly grateful to all.

Tina G
from
Tauranga New Zealand

I would certainly recommend Stunning Makeovers. 
I enjoyed my experience,…. and overall the organisation. I like their website.

Bonnie M
from
Auckland, New Zealand

We had previously used Stunning Makeovers and found them to be good. Heard good comments about Stunning Makeovers from friends originally
We are satisfied with Stunning Makeovers service and found the experience at hospital to be 
good and would/have recommended to other kiwis, very professional. Good English.
The hospital has overall good facilities, that are clean tidy and professional
If I needed more work in the future I would definetly go back before doing anything here in NZ.
I would recommend Stunning Makeovers to others because it makes it easier and takes the stress out of everything such as contacting doctors/dentists and gives peace of mind. Stunning Makeovers are knowledgeable and can answer most questions straight away.
Awesome work - .thanks