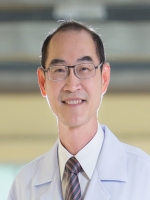 Dr Sanguan is in a league of his own and renown world wide as a serious, innovative plastic surgeon, who is willing to take on challenging and complex cases. Clients find him to be thoughtful and patient with a keen attention to detail and always ready to explain technicalities. Dr Sanguan is specialized in breast surgeries, especially breast augmentation, lift, reduction and revision, as well as male-to-female sex reassignment surgery. This has gained him a following from all over the globe.
Dr Sanguan is National Secretary of The Society of Aesthetic Plastic Surgeons of Thailand. Locally he is the Chairman of the PIAC Surgical Committee and sees it as his obligation and goal that all PIAC clients are satisfied and their surgery result is within acceptable standards. He works tirelessly to mentor younger surgeons and is happy to pass on his knowledge and experience.
Dr Sanguan has been a member of Rotary for many years and in 2014 he was District Governor. He lives in Phuket with his family and often hosts exchange students in his home. Dr Sanguan travels a lot and consequently his clients are encouraged to book their surgery months in advance to ensure availability.
His special interest includes
Surgeries for Transsexual: Male to Female Sex Reassignment Surgery
Breast Aesthetic surgery.
Education
Secondary Suankularb Vittayalai College, Bangkok, 1973-1978
Undergraduate B.S. ,Chulalongkorn University, Bangkok, 1978-1982
Graduate M.D.,Chulalongkorn University, Bangkok, 1982-1984
Qualification Thai Certified Board of Plastic and Reconstructive Surgery. Since 1991
Training
1984-1985 Internship, Rayong hospital, Rayong, 1984-1985
1985-1988 General practitioner, Koh Samui island community hospital,  Koh Samui, Suratthani
1988-1991 Residency training, Plastic and Reconstructive surgery,  Chulalongkorn hospital
1991   Fellowship, Tampa craniofacial center, Tampa, Florida, USA
Professional Experience
1991-1999  Plastic surgeon, Vachira Phuket general hospital, Phuket, Thailand
1991-2006  Plastic surgeon, Phuket international hospital, Phuket
2006-2015  Chief of Phuket International Aesthetic Center (PIAC)
1991-present  Founder, Phuket Plastic Surgery Center, Phuket, Thailand
2005-present  Director, Phuket Plastic Surgery Institute, Phuket, Thailand
Certification and License
1984 Medical Licensure, Medical council of Thailand, No.#12287
1991 Board certificate, Thai Board of Plastic and Reconstructive Surgery
Memberships and Committee in Professional Societies
A member of The Thai Medical Council.
A member of Royal College of Surgeons of Thailand.
A member of The Society of Plastic and Reconstructive Surgeons of Thailand.
A member of The Society of Aesthetic Plastic Surgeons of Thailand.
A member of International Society of Aesthetic Plastic Surgery ( ISAPS ) Since 2008.
A Thailand National Secretary of International Society of Aesthetic Plastic Surgery (ISAPS) 2010-2014.
A member of ISAPS Educational council committee, 2014-2016
Organizing Committee, 13th ASEAN Congress of Plastic Surgery, Year 2006, Chiengmai,Thailand.
Organizing Committee, 14th OSAPS Congress of Plastic Surgery, Year 2014, Pattaya,Thailand.
Board of committee of The Society of Plastic and Reconstructive Surgeons of Thailand,Year 2005-2016.
Vice President, International affair of The Society of Plastic and Reconstructive Surgeons of Thailand, Year 2016-2018.
Board of committee of the Society of Aesthetic Plastic Surgeon of Thailand, Year 2007-2016.
TESTIMONIALS
Jade G
from
Broome Western Australia

I Googled lots of companies and found Stunning Makeovers got back to me very quickly and kept me at ease with my appointment bookings etc and speaking via the phone was great.
Their service was fantastic. My doctor was fantastic, a very nice man….
The nursing staff were lovely. We would have a laugh at times and the support staff made me feel at ease.
The pick up service to and from hospital was fantastic and the drivers very informative. The hospital facilities was very clean, great room and food was good also.
I will and already have recommended Stunning Makeovers because they are fantastic at email returns and making the trip over easier and felt at ease going on my own to Thailand.

Sue B
from
Sydney, Australia

We chose Stunning Makeovers because they returned the information and emails quicker than others and seemed to know exactly what we wanted and answered all our questions no matter how stupid they sounded.
They made us feel very comfortable with the idea of surgery overseas. I am absolutely satisfied with Stunning Makeovers service and could not speak more highly of them.
Everything when like clockwork and we didn't have to worry about a single thing. All our transport was on time, the hospital was professional, clean and better than those in Australia.
The staff at the hospital were fantastic and always kept an eye on Sue to make sure she was comfortable. Our contact at the hospital was great and always greeted us with a smile. People need to know how professional these people are as it is well worth the trip.
The Surgeon was great. He was professional but kept Sue calm by joking a little. He made the correct decisions before and during surgery and the result was fantastic and even our local Doctor in Australia said it was an A grade job.
The nursing staff were fantastic people, always smiling…….they knew what we wanted and always asked if there was anything they could do for us.
The service can't be faulted. As I said, everything was on time, the people were polite and we were well looked after throughout the whole process.
The facilities were second to none. They were extremely clean and there were so many people looking after us. When they sent Sue for X-ray's we weren't sitting around for hours instead it was all instantaneous.
We will absolutely return for more surgery and thinking of doing so in 2 years. We are going to plan another trip to take care of a few more dentals issues and perhaps a new tattoo!
We would absolutely recommend Stunning Makeovers and already have. We have a couple of friends that are getting very excited about the prospect and I said I would help them through the process as they are planning the same operations as Sue.
Keep up the great work Paul, Sue could not be happier and I'm smiling again with my new teeth.

Kelly B
from
Auckland New Zealand

Stunning Makeovers was referred to me by a friend who had been over to Thailand and had surgery.
Excellent service. They arranged everything, from before we left, to when we got over there and return back. Their service was of a very high standard and I would definitely use them again in the future and would be happy to refer people to them.
I would just like to thank Paul for everything he has done for me and my family. I wasn't sure before we left, but he kept in touch with us the whole time to make sure everything was going ok.
I came out of surgery and there waiting for me was a message from PAUL making sure everything went ok. I would recommend this service over our New Zealand service any time. Very professional!The hospital and the people were outstanding. The facilities were very excellent and clean and my surgeon was very professional. They took care of me and my family.
The surgeon was excellent. He related well to me and my husband and he was straight up about everything. It wasn't about the money, but what I needed to have done. I also would like to thank him and his team. They did a fantastic job and I am very happy.
Nurses and support team were very caring and supportive of my needs. They made me feel safe and comfortable. Their rooms were of a very high standard! The service was great! They ran around after us the whole time. From airports to hospital, to checks, and home again. Thank you!
The hospital run a very high level of professionalism and make you feel safe and supported.
I would like to thank them and my surgeon for all their support and help.
It was a great experience for me and my family and I would return for more surgery. I would definitely recommend Stunning Makeovers, they provide a great service, great people to do business with and happy with everything you did for us.
Thank you Paul and the doctor very much. Also the hotel that we stay in was also excellent and I would stay there again with me and my family. My son had a ball. The people were very lovely and always happy to help you.
Thank you for your prompt, professional service. Most impressed.

Jade G
from
Western Australia

Stunning Makeovers was very good with follow up. The surgeon was great and listened to what I said with understanding. He was very friendly and put me at ease.