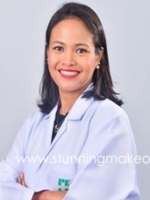 PROCEDURES PERFORMED
Breast Surgery
Face and Neck reconstruction
Body contouring
Liposuction
Fat transfer
Burn and Wound Care
EDUCATION AND QUALIFICATIONS
Doctor of Medicine (Second Class Honours), Chulalongkorn  University Bangkok, Thailand 1997-2003
Plastic Surgery, Siriraj Hospital, Mahidol  University, Thailand 2006-2011
International Visiting Scholar ASAN Medical Centre Seoul Korea 2010 (Dec)
Observership Microsurgery and Craniofacial Surgery, Chang Gung Memorial Hospital Taiwan 2011 (Feb)
Plastic and Reconstructive Surgery residency paper presentation, 3rd place 2011
Certified Board of Plastic Surgery 2011
PROFESSIONAL EXPERIENCE
Maharat Nakornratchasima Hospital Thailand 2003-2004
Intern General surgery, Dept of Surgery, Maharat Nakornratchasima Hospital Thailand 2004-2006 
Attending Staff Plastic Surgery Dept of Surgery, Ratchaburi Hospital Thailand 2011-2012
Plastic Surgeon Naravee Aesthetic Clinic Bangkok Thailand Jan -June 2013
Plastic Surgeon BB Clinic Bangkok Thailand 2013-2018
Plastic Surgeon Sikarin International Hosptial - Present
PROFESSIONAL MEMBERSHIP
Medical Council of Thailand 
The Royal College of Surgeons of Thailand 
Society of Plastic and Reconstructive Surgeons of Thailand 
Society of Cosmetic Surgery of Thailand
Oriental Society of Aesthetic Plastic Surgery
TESTIMONIALS
Gina B.
from
Auckland, New Zealand

I chose Stunning Makeovers due to the personal care and detail when dealing with them, instant and accurate response regarding any questions..exceptionally professional 
The surgeon, nursing and support staff and hospital facilities were excellent and the transfers was a top service.
I am very satisfied with Stunning Makeovers and I was very happy with all aspects of service when dealing with this company. I have already recommended Stunning Makeovers to others.

Melissa S.
from
Melbourne, Australia

I chose Stunning Makeovers initially because of transparent costings, testimonials, before and afters. Followed through because of ease of communication, the all inclusive arrangements and options and feedback from various surgeons.
I am very satisfied with Stunning Makeovers service. From start to finish they were very caring, genuine and had me at ease from start to finish. I cant see any areas where they personally could improve. They encouraged me to seek assistance at any point necessary which i did on occasion, they followed up quickly and put me at ease.
I am very likely to recommend Stunning Makeovers to others. I could not fault them.
I possibly would return for more treatment/surgery if I felt i needed it, i definitly wouldn't hesitate to use stunning makeovers again.
My surgeon could have been a little more reassuring and educated me more on the fact a breast augmentation will not look so appealing initially, and offered reassurance or stated she was happy with results in early stages.
Bebe and Jane (nursing and support staff) were beautiful. Other nurses were fine, no issues but Bebe and Jane made me comfortable, were very caring and pain managed better by them
The hospital facilities were amazing. Like a hotel. Clean, organised, well facilitated.
I couldn't think of any areas the hospital can improve their service They took extra precautions where necessary, extra tests required which showed they were responsible in their duty of care to me.
I am very satisfied with the results of my tummy tuck, healing very well. The breast augmentation will take time. They look rather distorted at this point, tight stitching in lower pockets looks indented and as per expectations, breasts haven't dropped as yet. Will continue to massage this tightness, hoping it releases and allows implants to drop into position. I understand if it doesn't, I can have this corrected down the track.
The vehicle and driver for the transfers was amazing. So easy, so well coordinated between hospital and hotel. Vehicle was comfy, enjoyed the ride. Lol
I was 100% satisfied with the standard of hotel accommodation. The staff were lovely, from reception, to Restaurant to cleaning staff. Room kept clean, offered in room breakfast for a longer period, always greeted with a smile and very nice hotel overall The quality of food at the hotel was fantastic.