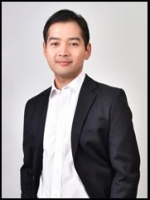 Education
2011 - 2016     Resident training program at department of plastic and reconstructive surgery, Lerdsin Hospital, Bangkok, Thailand
2009 - 2011     Internship physician at Naratiwatrachanakarin Hospital, Naratiwat, Thailand
2008 - 2009     Internship physician at Fort Supprasithiprasong Hospital, Ubonratchathani, Thailand
2002 - 2008     Bachelor degree in medicine, Phramongkutklao College Of Medicine, Mahidol
University
Professional Membership
•   Medical Council of Thailand since 2008
•   Society of Plastic and Reconstructive Surgeons of Thailand since 2016
•   Society of Aesthetic Plastic Surgeons of Thailand, since 2016
•   Royal College of Surgeons of Thailand since 2016
Professional Experience
•   Medical Volunteer of Operation Smile Thailand: helping patients with congenital anomalies especially cleft lips and palates, hand deformity, and burn hand problem in rural area of Thailand, 2009- present
•   Medical Volunteer of Thai Red Cross Society of Thailand: treating congenital cleft lips and palates in the provincial hospitals, 2014- present
•   Medical Volunteer of Princess Mother's Medical Volunteer Foundation: treating craniofacial anomaly and performing burn reconstruction
•   Clinical  Observership  Program  at  Department  of  Plastic  and  Reconstructive  Surgery, University of Ghent, Belgium, 2016 
Awards
•   First prize poster presentation in chronic wound research "The expression of matrix metalloproteinases and their inhibitor in chronic wound fluid of diabetic foot ulcers" at Wound care 2015 conference. March 11-13, 2015, Bangkok, Thailand
•  First prize in medical cadet student research "Validity of Osmotic Fragility Test for Screening of Thalassemia and Hemoglobinopathies in Thai rural Adults" at the 34th conference of Phramongkutklao hospital and college of medicine. November 24, 2006. Bangkok, Thailand.
Special Clinical Interests/Expertise
Face Lift
Open Rhinoplasty Eyelid Surgery Breast Surgery Body Contouring Liposuction
Sex Reassignment Surgery
Female Feminisation Surgery
TESTIMONIALS
Ms Dalia K
from
Melbourne, Australia

All went very well and I am very happy with the outcome.

Dianne O.
from
Rangiora, New Zealand

It was my second time to use Stunning Makeovers and their service was great again. Dr. Sivat was lovely. The nurses were overall kind and caring and one even lent me some money for a smoothie. JR and Cindy were both very kind and helpful and spoke English well.
The pick up and drop off service is great. All facilities were clean and modern.
I will definitely recommend Stunning Makeovers to others, their service is professional and of course the price is reasonable compared to what we pay here in New Zealand.