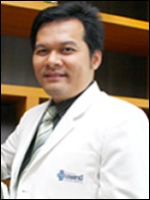 EDUCATIONAL BACKGROUND
Doctor of Medicine, Faculty of Medicine, Ramathibodi Hospital Mahidol Universtiy, Bangkok Thailand
Certified Board of general surgery King Bhumiphol Hospital, Royal Thai Air Force
Certified Board of Plastic and Reconstructive Surgery Plastic and Reconstructive Unit King Chulalongkorn Memorial Hospital Board of Family Medicine
SPECIALTY TRAINING
Plastic surgery
Advance Training of Body-Jet, Liposuction System
13th Asean Congress of Plastic Surgery and 15th Congress of the international society for Simulation Surgery, Sheration, Chiangmai, Thailand 2006
MEMBERSHIP, SPECIALTY BOARDS & FELLOWSHIP
The Society of Plastic and Reconstruction Surgeons of Thailand
The Society of Aesthetic Plastic Surgeons of Thailand
Royal College of Surgeons of Thailand
TESTIMONIALS
Sue F
from
Wollongong, Australia

I was just looking around on the internet, and Stunning Makeovers was one of the first sites that came up.  I chose to go with Stunning Makeovers because of the price and am satisfied with their service.
The nursing staff were always happy to help when needed with a smile and service was very good. The facilities were nice, clean and modern.
I would return for more surgery and would go through Stunning Makeovers again. Their service was excellent.  I gave them only a short amount of time to organise my makeover holiday...and was completed within week. 

Michael W
from
Foxton, New Zealand

I travelled with my partner on an impulse and travelled to Bangkok with Paul from Stunning Makeovers at the same time.
I used Stunning Makeovers because they organised everything. I was very satisfied with Stunning Makeovers service with changing appointments and organising surgery at another hospital for me after I arrived in Thailand.
The surgeon at Vejthani Hospital was amazing, very skilled and communicated very effectively, 
The nursing staff were very good. The hospital facilities were amazing, like a hotel.
I will return for more surgery and would recommend Stunning Makeovers for the service and perceived safety. 

Julia A
from
Hawkes Bay, New Zealand

I'm very pleased Terry my husband reckons it looks like I had a breast implant as well as losing  the  abdominal bit because it enhances the chest, so he's a happy little chap too.
But on a serious note I was over the moon with the support you gave me all the way though from first inquiry to the last text.  
Everything was very smooth, well managed and quick, everything was handle very professionally but very friendly. Coming home with Cathy was a breeze, as we bypassed all the queues etc we had a man assigned to the wheel chair, Cathy had to be in. He kept us as a group and took us right to our seats on the plane. We were very impressed with the service. Once again thank you for organizing this honorific step in my life for the better. 
Will keep you in mind if I ever hear of anyone else wanting to head over or if I can con Terry into let me have something else done. If I needed to come back it would be first on the list.
I would recommend Vejthani Hospital to other people "1st Class".

Melanie C
from
Bay Of Plenty, New Zealand

Stunning Makeovers was a recommendation and I am satisfied and could not fault their service.
The hospital, I could not fault either.  Service A1.  Nursing care well provided for and follow up good.  Nursing staff gave clear instructions and communicated well. The facilities were 7 star.
I would recommend others.  I have already recommended Stunning Makeovers for your service. Fantastic, thank you Paul.
It has been wonderful to know your support was at the other end of modern technology Paul.

Carole R
from
Napier, New Zealand

Words cannot express how I feel about your company………. From the moment we touched down in Thailand and was meet by Mr. T. until we were taken to the airport and on our way home again by Mr. T.
We were very satisfied the hotel. It was spotlessly clean and nothing was a bother to the staff that we came in contact with.
The hospital? Well this was way beyond what I was expecting and the staff  from the head nurse down to the orderly.
Yuri was a delight to have as my nurse contact and both times that I did need him he reassured me and told me what to do. Dr Siripong was the greatest surgeon that I have ever met (and working in a hospital myself) the  manner that he works in is just 100%.  I cannot express the professionalism of all the staff at the hospital.
When my friend Jill was so unwell Mr. T took great care of her taking her to the hospital and staying with her to make sure that every one understood her needs.
I could just go on and on saying the same thing over and over again but you both run a very good company and the staff that you have employed are the top people for the job in which you have done your research on.
Last but not least, I look like just what your company is called Stunning.  I am so thrilled with my makeover that I cant believe that it is actually me and why did I wait all there's years to have it done. THANK YOU BOTH.