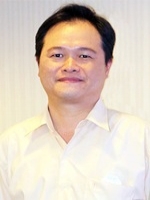 Dr. Rungkit Tanjapatkul attained his degree in medicine at the Chiang Mai University School of Medicine in 1996. He completed post-graduate residency in plastic surgery at the Chulalongkorn University Medical Center, Bangkok in 2006.
He is a member of the Royal College of Surgeons Thailand, Thai Society of Aesthetic Plastic Surgery, Oriental Society of Aesthetic Plastic Surgeons, as well as the International Society of Plastic and Reconstructive Surgeons.
Dr. Rungkit is committed and passionate about enhancing the facial and body features to make patients feel better about themselves. He also actively contribues to research for improvement in the field of reconstructive surgery.
Education & Qualifications
Plastic Surgery Chulalongkorn University Medical center June 1, 2004 to May 31, 2006.
AO Fellow (maxillofacial surgery) 1st Craniofacial Distraction Osteogenesis, Singapore, 2010.
The 6th International Workshop on Surgical Tec. In Cleft Lip & Palate and Maxillofacial Surgery, 2010.
M.D. ( doctor of medicine ) Chiang University School Of Medicine June 1991 - May 1996.
Thai Board Of General Surgery (Medical Council) 2004.
Thai Board Of Plastic Surgery ( Medical Council ) 2006.
Professional Memberships
Royal Collage Of Surgeons Thailand
Thai Society Of Plastic And Reconstructive Surgeons
Thai Society Of Aesthetic Plastic Surgery
Oriental Society Of Aesthetic Plastic Surgeons (OSAP)
International Society Of Plastic And Reconstructive Surgeons (ISPRS)