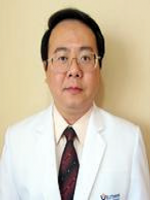 Education
1987 – 1993 MD., Faculty of Medicine Siriraj Hospital, Mahidol University
1993 – 1997 Residency Training Program in General Surgery Khonkaen University
1997 – 1999 Fellowship in Head and Neck, Breast Surgery Siriraj Hospital, Mahidol University
2000 – 2002 Residency Training Program in Plastic Surgery Ramathibodi Hospital, Mahidol University
2005    Fellowship in Craniomaxillofacial Surgery Princess Margaret Hospital, Perth, Western Australia
2006    Visiting Scholar in Craniofacial Surgery Chang Gung Memorial Hospital, Taiwan 
Experience
1999 – 2000 Consultant General Surgeon, Kasemrad Hospital
2002 – 2003 Consultant Plastic Surgeon, National Cancer Institute
2003 – 2004 Consultant Plastic Surgeon, Pranunklao General Hospital
2006 – Present Clinical Instructor in Plastic Surgery and Chief, University of Bangkok Metropolis
Post-graduate Training
2002  Instructional course of laser physics, instrumentations, safety, biological effect, 
clinical application of laser in Medicine and Surgery.
Asian-Pacific Association for Laser Medicine & Surgery and International YAG laser 
Society, Pattaya, Thailand
2004  Endoscopic Sinus Surgery (ESS) in Cadaveric Dissection Course and Live Surgery 
International Rhinology Update Course, Siriraj Hospital, Bangkok, Thailand
2004 9th International Congress of Oriental Society of Aesthetic Plastic Surgery, Bangkok 
2005  Temporal Bone Surgical Dissection Course 
International Center for Otologic Training, Bangkok, Thailand
2005  AO/ASIF Course of Internal Fixation in Craniomaxillofacial Skeleton, Bangkok, Thailand
2006  13th ASEAN Congress of the International Society for Simulation Surgery, 
Chiang Mai,Thailand
2007  Chang Gung Forum 2007, Surgical Orthodontic Approach to Dentofacial Deformity, Taiwan
 
Areas of Interest:
• Craniomaxillofacial Surgery (facial bone surgery)
• Head and Neck Surgery
• Breast Surgery
• Aesthetic Surgery (Cosmetic Surgery)
• Laser Surgery
• Genital Surgery
TESTIMONIALS
Claire W
from
Auckland, New Zealand

My tummy shape is better than I had thought possible. The surgeon I had is a very gifted man.
Counting down the days until I can start with gentle jogging again, and then back to playing hockey this summer. Plus wearing a bikini again!