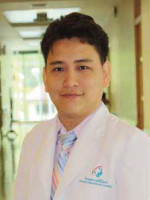 EDUCATIONAL BACKGROUND
Chulalongkorn University Medical School, Bangkok, 1993-1999 – M.D. (2nd Class Honours)
Internship Maharaj Nakorn Chiang Mai Hospital, 1999-2000
General Practitioner Maharaj Nakorn Chiang Mai Hospital, Chiang Mai, 1999-2000
Residency training General Surgery Maharaj Nakorn Chiang Mai Hospital, 2000-2004
Diplomatic, Board of General Surgery
Residency training Plastic and Reconstructive Surgery King Chulalongkorn Memorial Hospital, Bangkok 2004-2006
Diplomatic, Board of Plastic and Reconstructive Surgery
Full Time Plastic Surgeon, Bangkok Metropolitan Administration (BMA)
Medical College and Vajira Hospital Bangkok 2006-2011
Consultant Plastic Surgeon Piyavate Hospital Bangkok 2006-2011
Consultant Plastic Surgeon Samitivej Hospital Bangkok 2008-2010
INSTRUCTOR
Instructor and Lecturer in Plastic and Reconstructive Surgery Department of Surgery Bangkok
Metropolitan Administration (BMA)
FURTHER EDUCATION
The 13th ASEA Congress of Plastic Surgery, Chaing Mai Thailand 2006
The 6th Asian Pacific Burns Congress, Seoul South Korea 2007
The 29th Pan-pacific Surgical Association Biennial Congress Hawaii USA 2010
Visiting Scholar in Craniofacial Surgery and Mircrosurgery
Plastic and Reconstructive Surgery Department, Chang Gung Memorial Hospital, Taipei Taiwan 2001
HONOURS AND AWARDS
Outstanding Instructor (Undergraduate level) Award, Department of Surgery Bangkok Metropolitan
Administration (BMA) Medical College and Vijara Hospital Bangkok 2007
CERTIFICATION AND LICENSE
Medical Licensure: Medical Council of Thailand, 1999
Board certification: Thai Certified Board of General Surgery, 2004 & Thai Certified Board of Plastic and 
Reconstructive Surgery, 2006
ISAPS - International Society of Aesthetic Plastic Surgery
SPECIAL EXPERTISE
Liposuction and Body Contouring, Breast Surgery, Face-Lifting Surgery
 
MEMBERSHIPS IN PROFESSIONAL SOCIETIES
Thai Medical Council
Royal College of Surgeons Thailand
The Society of Plastic and Reconstructive surgery of Thailand
The Society of Aesthetic Plastic Surgery of Thailand
International Society of Aesthetic Plastic Surgery ( ISAPS )
Thai Society of Wound Healing
Thai Society of Burn Healing
Thai Cleft Lip-Palate and Craniofacial Association
TESTIMONIALS
Grant A
from
Perth, Australia

The surgeon was great, very friendly and easy to deal with, gave me great feedback after the operation. The hospital service and facilities were excellent. The nurses went out of their way to make me as comfortable as possible.
I would recommend Stunning Makeovers to others - very professional, I didn't need to do a thing but turn up at the airport with my passport. I would like to go back late this year for more surgery/dental treatment.


I found the company online and after meeting Paul and Swee personally at an information evening, I felt confident to plan for surgery overseas. 
The surgeon was professional and helpful. The dentist definitely knows her stuff.  The results of the work are great. I had a couple of crowns that she was not happy with when they arrived from the technicians so she sent them back.  This was a pain in relation to having to have extra trips to the dentist but I was more than happy to do this to get work that she thought was a higher standard.
Service was excellent at the time of surgery and during subsequent visits; staff were very helpful and quick to offer assistance when needed. The hospital facilities was excellent, definitely as good as any New Zealandhospital. 
I would get more dental treatment if I was in Thailand.
Thanks for all your work on my case, I appreciate your personal and professional help. Ultimately was very satisfied with Stunning Makeover's service and personal care. 

Alexandra H
from
Australia

The surgeon was very competent and confident, which made me feel confident too. He really knew what he was talking about and spent a good 30-40mins in the consultation explaining what was good for me and what wasn't. He was very professional and his English was great.
The nursing and support staff were always very helpful and answered the call bell very quickly when I was in hospital. They always got us transfers to and from the hospital and airport and were always on time. The service was excellent and had a single room in the large Phuket International hospital and a private bathroom. The operating room was modern and the consultation rooms state of the art.
It was comforting knowing there was always someone to call if I ran into problems in Thailand. I had Paul's mobile number and was impressed he contacted me while I was recovering to check on my progress.
I had an absolute ball in Thailand. Things couldn't have gone more to plan. The results of the surgery are amazing and they are healing so well.
Overall, very satisfied and I would (and have) recommended them to anyone who asks, including the closest of friends and family.