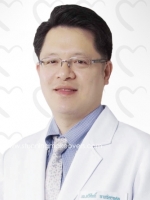 EDUCATION
•
Thai Board of Plastic Surgery
•
King Chulalongkorn Memorial Hospital, Bangkok (2000)
•
Thai Board of General Surgery, King Chulalongkorn Memorial Hospital, Bangkok (1992)
•
Faculty of Medicine, Chulalongkorn University, Bangkok (1992)
WORK EXPERIENCE
Plastic Surgeon at Aesthetic Center, Bangpakok 9 International Hospital, Bangkok (2004-Present)
Assistant Surgeon of Dr. Preecha at Preecha Aesthetic Institute, BNH Hospital, Bangkok (2000-Present)
Medical Consultant at Rajthani Hospital, Ayudhaya (2000-Present)
Plastic and Reconstructive Unit, Department of Surgery, Ayudhaya Hospital, Ayudhaya (2000-2004)
Professional Affiliations
The Medicine Council of Thailand
Royal College of Surgeons of Thailand
Society of Aesthetic Plastic Surgeons of Thailand
Society of Plastic and Reconstructive Surgeons of Thailand
TESTIMONIALS
Julie R.
from
Auckland, New Zealand

Recovering really well, so happy how everything has gone.  Love it here at the hotel, everyone is so friendly and nice. 
Really enjoying the others company, they are fantastic people.
The cruise last was a real winner, fantastic, worth every cent.
Don't want to  go home, enjoying every minute.