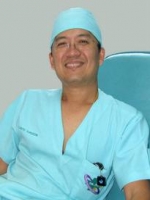 EDUCATIONAL BACKGROUND
Doctor of Medicine, Chulalongkorn University, Thailand, 1985
SPECIALTY TRAINING
General Surgery, Chulalongkorn Hospital, 1991
Plastic Surgery, Chulalongkorn Hospital, 1994
MEMBERSHIP, SPECIALTY BOARDS & FELLOWSHIP
Board Of Plastic & Cosmetic Surgery Of Thailand
INTERNATIONAL TRAINING/SEMINARS ATTENDED
American Society of Plastic & Reconstructive Surgeons - Montreal, Quebec, Canada
Certificate In Microsurgery - Singapore General Hospital
WORK EXPERIENCE
ER & Surgical Department, Phang-nga Hospital, Thailand
General Surgery, Chulalongkorn Hospital, Thailand
Plastic Surgery, Chulalongkorn Hospital, Thailand
Assistant Teacher, Chulalongkorn Hospital Plastic Surgery Unit
Yanhee International Hospital
TESTIMONIALS
Olivia R
from
Wellington New Zealand

I did small bit of internet surfing and never found any bad feedback about Stunning Makeovers, or Paul himself, so went with Stunning Makeovers….they were very quick to contact me and advise me of quote.
I'm very happy with Stunning Makeovers service from start to finish, from booking my trip to the contact from Paul while overseas, felt He would answer questions freely and I felt if I needed to talk to him while out of the country I would and could with no problems
Nurses were very beautiful hands-on woman, I feel you would never receive that kind of treatment form New Zealand nurses like I did from them, once I was taken back to my room after surgery my room filled with nurses ready to assist me, they were wonderful very happy with nursing staff.
The Hospital was very clean, with great staff, my room was really nice almost like a hotel, had every thing I needed including a fridge stocked with drinks,   
I would use Stunning Makeovers again and would recommend any time, great way of doing cosmetic surgery, with the help from Paul.

Kirstin W
from
Auckland, New Zealand

I chose Stunning Makeovers because the home page was great and had heaps of information. Paul was very helpful and gave us answers straight away.
The nursing staff were lovely and polite. The hospital service was great once we got taken up to our rooms, big and spacious.
I just want to say thank to you both.  I am really happy ……..!

Amanda D
from
Wellington, New Zealand

A friend at my gym recommended Stunning Makeovers and I travelled to Thailand on their group trip package. It was good to have Paul accompany us on the trip. 
Nurses were efficient and the facilities were clean. I would return for dental treatment.

Shevaun P
from
Wellington, New Zealand

I chose Stunning Makeovers through word of mouth from a past client.  I had already been considering Stunning Makeovers through google/web advertising. I wanted to use a local company and I liked the website and information available.
Overall I am satisfied with their service. The river cruise was fantastic and definitely a highlight.
Nursing and support staff were friendly and courteous. Filipino nurses spoke excellent English and were very useful on the international wards.
The hospital was clean and easy to navigate.
I would consider returning for either surgery or dental treatment if I felt I required it.  I will return in 10 years time when breast prosthesis requires replacement.
I would recommend Stunning Makeovers as I feel it's an evolving company and the director appears keen to grow and improve the service the business provides.  
Many thanks. I am very pleased with the service …..

Karen S
from
NSW, Australia

I am well on my way to recovery. I intend going back in 12 months time to have a lower face lift as I am very happy with all other aspects of this surgery experience. 
My friend Gayle is extremely happy with her dental work and is now considering 'a boob job! 
We are already planning our next trip for Bangkok in August next year. It was so helpful talking to other people over there, about their experiences and of just how many return on a regular basis for all sorts of surgery. 
I met Belinda (another Stunning Makeovers client in Bangkok) and her friend. Belinda is a real 'ambassador' for Stunning Makeovers and only has good things to say. You have added another in myself that will highly recommend your company. Having everything planned with pick-up from the airport at the beginning to the airport return at the end was so professionally done, and never with a hiccup or a problem to any of the drivers. They are the most considerate and respectful men I have met as drivers for a long time. 
At the Ambassador Hotel, once again, we were met with people trying to help us. 

Brent W
from
Christchurch, New Zealand

I had heard of Stunning Makeovers through some type of advertising in the past and was very pleased with your service. Transfers were great and on time, hotel very nice and well located.
I am very pleased with what I had done. I am now 56 and have had people think I am in my early to mid-40s. No one in my family or friends picked up on anything being done. Thank you very much.


Thanks for the great service Paul.  Loved the Hotel, Yanhee staff and doctor are very professional. The hospital leaves Australia behind in professionalism and patient care.
I'll definitely be sending friends and clients your way for you to help them reach their own personal dreams with a makeover. 


I chose Stunning Makeovers because I did a significant amount of research online and found their website very informative not to mention their prompt response to any of my emails or queries.
I am very satisfied with the service and information provided by Stunning Makeovers prior to departure. 
The Dentist was excellent.  He talked me out of having extra veneers done and said that he thought I would get just as good a result by having my teeth whitened instead.  This obviously saved a lot of money. I was very impressed. 
The nursing and support staff were very professional and tentative. Both of these services were good as well as the facilities.  
I would return for more surgery/dental treatment and would recommend Stunning Makeovers to others as it is easy and affordable.

Ian M
from
Auckland, New Zealand

Stunning Makeovers has a good reputation because they offer very good prices and attentive service as well as follow up.
The surgeon was very to the point and factual, nursing and support staff were all good and the facilities at the hospital were good and well-run!
I would return for more surgery and am happy to recommend Stunning Makeovers to others.